Betting on Television
by Ray Paulick
Date Posted: 7/9/2002 11:08:40 AM
Last Updated: 7/9/2002 2:05:29 PM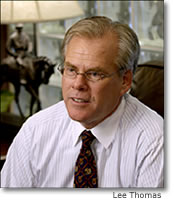 Ray Paulick
Editor-in-Chief


A recent online poll at Daily Racing Form's Web site asked fans if they would be more inclined to wager on a horse race if it is televised. The answer from the 3,124 who responded was loud and clear: 79% said they would be more inclined to wager, with only 21% saying a televised race would not make them more inclined to make a bet. While online polls are not scientific, I would be willing to wager you could take the results of this one to the bank without having to get ESPN Chilton, Gallup, or Harris polls to validate it. Another non-scientific survey of one Central Kentucky household affirms the poll's findings. During the July 6 telecast of the NTRA Summer Racing Tour on CBS, the household in question eagerly anticipated the United Nations Handicap (gr. IT) from Monmouth Park. This would have been the household's first bet of the season on a race from the Jersey track. Not coincidentally, no other races from there have been viewed in that household this year. But after a call was made to place a legal wager on the race with the Television Games Network, it was learned with dismay that Monmouth Park is not available on TVG. The head of the household spent the next several minutes explaining things like exclusive contracts and source market fees to his 14-year-old son, who really didn't care to take a Saturday afternoon course in racing politics 101. All he cared about was With Anticipation, the eventual U.N. winner, and he wanted his dad to back up his opinion with a $2 win bet. "Not to worry," father told son. "We'll make up for it in the next race from Arlington Park. I know we can use TVG for that track." Unfortunately, just as he was talking, the CBS telecast switched to a picture of horses loading into the starting gate for Arlington's Stars and Stripes Handicap (gr. IIIT). There was no introduction of the full field, no live or taped post parade, no display of odds to heighten interest in wagering. The teenager did his best Scooby Doo impression: "Huh?" To be fair, following the Stars and Stripes, the CBS telecast gave viewers enough time to size up the field for the Suburban Handicap (gr. II) from Belmont Park and to make a wager on the race through an account wagering service. Of course, none of the aforementioned griping and moaning would have been necessary were it not for the NTRA's initiative to buy airtime on CBS to show some of the season's biggest races. Overnight ratings have not been blockbusters, but the most recent NTRA Summer Racing Tour received a respectable 1.4 overnight and a 4% share of the audience, only slightly behind a PGA Tour event on ABC and the U.S. Women's Open golf tournament on NBC. The 1.4 rating equates to more than 1.5 million households tuning in to watch horse racing. And I can personally vouch for at least one of those households wanting to make a wager on the nationally televised races. A Different Breed I can only recall a handful of mules by name. There's Francis the Talking Mule, who co-starred with Donald O'Connor in the movies a half-century ago. Ruth was the ornery mule that Festus Haggen rode on TV's "Gunsmoke." Gus was the field-goal kicking mule and namesake for a 1997 Disney film. But none of those mules has anything on Black Ruby, a 10-year-old mare who has turned the sport of mule racing on its loppy ears. Now in her fifth season of racing on the California fair circuit, Black Ruby has compiled an incredible record, by last count winning 44 of 50 races, with five seconds and one third. Her most recent win, a July 7 thriller at Pleasanton, saw Black Ruby snatch victory from almost certain defeat in the final jump. She may be a different breed, but this running mule possesses what every champion Thoroughbred has: the will to win.



Copyright © 2015 The Blood-Horse, Inc. All Rights Reserved.