Capital Concerns
by Ray Paulick
Date Posted: 9/12/2000 4:13:29 PM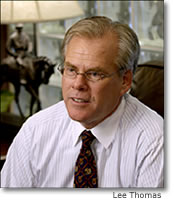 Ray Paulick
Editor in Chief


While the primary mission for the National Thoroughbred Racing Association has been to improve economic conditions and heighten public interest in the sport, an increasingly important role for the NTRA has been its lobbying efforts alongside the American Horse Council in Washington, D.C. It is not an exaggeration to say that the federal government's actions regarding Thoroughbred racing could be a matter of life and death for this industry. Over the next few weeks, before it adjourns in early October, the 106th Congress may consider H.R. 3125, also known as the Internet Gambling Prohibition Act. It is important legislation that bans most forms of gambling on the Internet but protects the pari-mutuel industry from having currently legal account wagering activities taken away. The Senate bill, sponsored by Jon Kyl of Arizona, was approved last year. The House version, sponsored by Bob Goodlatte of Virginia, got 61% approval in a July vote but fell short of the two-thirds needed to pass under a procedure known as Suspension of the Rules. Suspension votes typically involve legislation that is not controversial. The Internet Gambling Prohibition Act is controversial, in more ways than one. There are a few critics of the bill who do not believe racing should receive any exemptions. Other votes may be swayed by lottery companies that want provisions in the bill allowing them to bring online lotteries into the home. But what ultimately may block the bill is opposition from House members whose districts include high-tech companies that fear Internet service providers will be held responsible for policing online gambling. These congressmen may not have it in for Thoroughbred racing, but their opposition to the bill could make our industry an incidental victim. Complicating matters is the perplexing position taken by President Bill Clinton's Department of Justice. Kevin DiGregory, the deputy assistant attorney general, has testified at Congressional hearings in opposition to H.R. 3125, in large part because he believes it expands gambling on the Internet rather than prohibiting it. "The passing of H.R. 3125 will allow gambling online that currently is not allowed in the physical world," DiGregory told the House Judiciary Committee earlier this year. "For example, people cannot currently legally call gambling businesses in other states from their homes and place bets on horse races." If DiGregory's last statement were true (which it isn't), then a number of states have authorized, regulated, and taxed illegal account wagering services, one of the largest of which is owned by New York City OTB. Nevertheless, the Department of Justice position is a very real threat to the continuation of state authorized account wagering and to interstate simulcasting, which accounts for the vast majority of the wagers made today. Citing the Wire Act of 1961, which Congress passed as a means to crack down on illegal gambling and bookmaking, DiGregory suggests simulcasting's current practice of transmitting wagering information across state lines may be a criminal activity. He says that in apparent disregard of subsequent legislation, the Interstate Horseracing Act of 1978, that established federal regulations for interstate off-track betting. If H.R. 3125 does not pass with language recognizing the pari-mutuel industry's history of interstate simulcasting and account wagering, these crucial lifelines could be cut. And a $34-billion industry could be left adrift by a federal government that doesn't understand it. Make sure your congressman knows how important H.R. 3125 is to you. And the next time you're asked to support the American Horse Council or National Thoroughbred Racing Association, remember the good work they are trying to do for you in the nation's capital.



Copyright © 2015 The Blood-Horse, Inc. All Rights Reserved.