McCarron Goes Out On Top, Wins Last Ride
by Craig Harzmann
Date Posted: 6/23/2002 8:17:18 PM
Last Updated: 6/26/2002 8:28:13 AM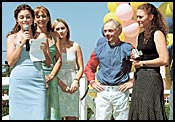 Daughter Erin (left) reads a poem at his retirement ceremony while the rest of the family (wife Judy and daughters Kristin and Stephanie) looks on.
Photo: Benoit Associates

This article appeared in the June 29 issue of The Blood-Horse
"Ten, ten lengths," came the reply. "There are jockeys out there who can get you five," Jerkens said. "But he's the only jockey that ever lived that could get you 10 extra lengths." Riding a Thoroughbred has been adjudged one of the most difficult and dangerous tasks in all of sports. McCarron, in fact, will be the first to tell you that the horses do all the work, that the job more or less is to stay out of their way. But if the outcome of a race is dependent upon split-second decision-making from the saddle--and it so often is--then consider McCarron's innate focus and flawless timing the ultimate edge. The evidence is convincing. His masterful ride on Touch Gold in the 1997 Belmont, which kept Silver Charm from the Triple Crown, is still talked about. Of his five Breeders' Cup Classic (gr. I) victories, Alysheba won by the largest margin--a half-length. And McCarron still gets a kick watching replays of the 1985 Charles H. Strub Stakes (gr. I), when he and Precisionist held off two idols named Shoemaker and Pincay. There were great moments with Best Pal and Bien Bien, Free House and Flying Paster, Riboletta, Glorious Song, and Sweet Alliance. Champions Flawlessly and Paseana were "cut from the same cloth," according to McCarron. "They were gems, never did anything wrong." McCarron even made the most of limited opportunities aboard standouts including Bayakoa, Sunday Silence, Criminal Type, Lady's Secret, and Lemhi Gold. All were champions themselves. All, at some point or another, won major races with McCarron in the saddle. "It's very difficult to say who was absolutely, sheerly the most talented," McCarron said when asked the inevitable. "I don't think we ever saw how good Alysheba was. He was always doing that 70-80% stuff with me. Tiznow was very much the same way. I'm inclined to say the out-and-out fastest horse I ever rode was Precisionist. He was a horse that wanted to win so badly. He did everything he possibly could to win every time he ran. John Henry, though, was really, really something special." Not all were entirely kind, however, and the thought of retirement was made real on a couple of occasions. A 1986 accident at Santa Anita left McCarron with a fractured femur. Things were much worse at Hollywood Park in 1990, when a terrible spill resulted in another broken femur, a fractured ulna and tibia, and serious concerns about his future. But when external doubts began to surface, hushed rumors that his days were indeed numbered, McCarron's competitive zeal hit overdrive. "It really pissed me off," he remembered. "You talk about throwing fuel on my fire. 'Is retirement imminent?'...'Is Chris going to hang it up now?' ...I thought, 'No way. That ain't gonna stop me.' " The passion, however, like that of many a great athlete, has ineluctably died out. McCarron, in fact, pinpoints the root of his dimmed passion to the day after this year's Kentucky Derby, when he feigned illness and took off his Hollywood Park mounts. Ordinarily, the resultant guilt of missed commitments would have ruined the rest of his day. This time, those feelings were absent. "That day it was different, and I could feel the flame diminishing," he admitted. "Every athlete goes through periods in his career where they're kind of tired of what they're doing, but it's temporary most of the time. At the time I was baffled, and it was only after several weeks went by that I realized it was a sign--a sign that it was time." McCarron also concedes that there is trepidation about a future without riding. Yet he is a man of positive thinking and forward progress, and with plenty of opportunities already demanding his attention, his retirement is perhaps best viewed as a transition. His work with the Jockeys' Guild is an obvious priority, as is the Don MacBeth Memorial Jockey Fund, a charity organization for disabled riders he co-founded with both his wife, Judy, and actor Tim Conway. Additionally, director Gary Ross has offered McCarron the role of Charlie Kurtsinger, the jockey of War Admiral, in the upcoming film depicting the life of Seabiscuit. There are other possibilities, too. "Somewhere down the road I think I'd enjoy fooling around with some horses," McCarron said. "I also want to try to develop a business model for a jockeys' school. It's something that this country drastically needs. Every other country that has racing around the globe has a jockeys' school. England, Ireland, Japan, all over South America, France. Places as small as Panama. Those jocks have to go through a rigorous program before they can gain a license. In this country, you gallop horses for six months, go to the starting gate, break a couple horses, and don't fall off, and BANG! You get a license. You talk about an accident waiting to happen. That's one thing I've thought a lot about for a long time. I've got some ideas as far as that goes." McCaffery, for one, feels McCarron will succeed regardless the direction of his focus. "Anything Chris does he gives 100% to the issue," she remarked. "He's so well-rounded." That, of course, traces directly to his youth, when all the McCarron siblings were taught the importance of education and allowed to spread their wings. When McCarron stood before an eager group of sixth graders recently, entertaining the class with funny tales and exciting memories, he imparted the same advice. Reach out, he told them, and aim high. "I'm a true believer that everybody is born with an ability to excel at something," he said. "Everybody has a talent to be really, really good at something, whether it be drawing, singing, kicking a football, or whatever it might be. But it's the lucky people that actually find out, they discover what that talent is." For the past 28 years, Chris McCarron has displayed his, and horse racing is a stronger sport because of it.



Copyright © 2015 The Blood-Horse, Inc. All Rights Reserved.