Fit for a King
by Craig Harzmann
Date Posted: 6/25/2002 12:07:00 PM
Last Updated: 6/27/2002 7:07:27 PM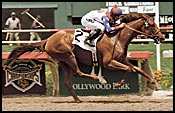 Azeri collected her fourth straight grade I win Saturday.

Photo: Benoit Photos

This story appeared in the June 29 issue of The Blood-Horse
The tears had been flowing early on, shared by family, friends, and fans. The weather was priceless. The mood was lively. The script had been written, and the day seemed tailor-made for greatness. So leave it to Came Home to give Chris McCarron's career the Hollywood ending it so deserved. With an on-track crowd of 16,850 screaming in ecstasy, the sturdy son of Gone West charged to victory in the $107,500 Affirmed Handicap (gr. III) at 8-1/2 furlongs, putting the final exclamation point on an unforgettable day. Few had the proper words to capture the moment--and to honor the man. "There's nobody in the world like him when it comes to just being an all-around nice man," said Trudy McCaffery, the colt's co-owner and -breeder. "You know where I think he's really going to be missed, especially in our barn, is the backside. His dedication in the mornings is unbelievable. Everybody's going to miss him." Especially Paco Gonzalez. For the last decade, Gonzalez and McCarron have formed a unique bond. Gonzalez, the trainer, has valued McCarron's insight from the saddle immensely. McCarron, the rider, can only shake his head in astonishment, continually impressed by Gonzalez' preparation of each athlete. Theirs is a mutual admiration, and their teamwork over the years has produced all-stars including Bien Bien, Free House, Bienamado, and now Came Home. To McCarron, participating in the development of a young, inexperienced horse has admittedly been one of his job's most rewarding aspects. So fittingly, his final victory was provided by Came Home, a full-fledged star who continues to defy the odds. "There's no way in January you would have been able to convince me that he could win the Santa Anita Derby (gr. I) and then be one of the favorites for the Kentucky Derby (gr. I)," said McCarron, who has ridden the seal brown colt in each of his nine starts. "But when you see a horse try as hard as he does, it just gives you a great feeling of accomplishment." Which is precisely why the Kentucky Derby was so hard for the Came Home crew to stomach. Came Home had been training like a dream, and for about a mile in the Derby, he seemed to have War Emblem within range. Then, uncharacteristically, he lost his punch. He finished sixth. "I don't think it was his day," McCarron said. Appropriately, Came Home was back to his bad self in the Affirmed. McCarron had planned to let him roll from the outset, and by midway up the backstretch, they were already in control. True Phenomenon stayed up close for a while, but by the time Came Home left the quarter pole, the crowd was already sensing the magic. Soon, he was all alone. Tracemark emerged with a steady run, but it wasn't enough. Taking McCarron out with a bang, Came Home crossed the finish two lengths clear in a strong 1:41.99. McCarron's concentration was so intense, in fact, that it was only after passing the wire that he first heard the roar. Immediately, his mind flashed back to that wet afternoon at Bowie, that initial last-place ride on Most Active that began his career more than 28 years ago. And then came the realization that Came Home had sent him out on top. "It's too good to be true," he kept thinking. "It's too good to be true." It was true. "When I hit the head of the lane, I had a strong feeling the race was over," McCarron explained, "because he just took off for me, like he typically does, much more so than he did in the Santa Anita Derby." Much like the great Johnny Longden 36 years ago, McCarron went out like a champion. With a late-inning triumph in Lone Star's NTRA All-Star Jockey Challenge Championship to boot, his final thoughts simply verbalized what everyone else was already thinking. "It's a storybook ending, no question. It's been a hell of a ride."
 
AZERI EXPRESS
When it comes to the ladies, Mike Smith is indeed a lucky guy. Smith's list of leading fillies and mares alone is enough to make any rider green with envy. Sky Beauty, Jersey Girl, Heavenly Prize, Glitter Woman, Ajina, Spook Express...the list goes on. And, of course, there were those moments aboard Inside Information, including that wet New York afternoon when she turned the 1995 Breeders' Cup Distaff (gr. I) into a one-horse spectacular. She won by 13-1/2 lengths. It still gives the man chills. "One of the best performances by a filly that I ever rode--even one that I ever saw," Smith recalled. "To beat a field like she did that day...it's still the largest margin at any Breeders' Cup. It's never been done. She was just amazing that day." Those same goosebumps were back on June 22 courtesy of one Azeri, the best filly this side of Xtra Heat. The dynamite daughter of Jade Hunter just keeps on rolling, and her effortless jaunt in the $250,000 Vanity Handicap (gr. I) left Smith thinking back to that unforgettable day seven years earlier. "Not only did she dominate, she wanted to dominate," the jockey said, praising Azeri's masterpiece in the nine-furlong Vanity. "At every pole, she was just clicking them off, just having fun doing it. At no time did I ever have to tell her to do anything. If anything, I was telling her not to do so much. I'm telling you, it had the same feeling." Smith's assessment may seem a bit stretched, but with Azeri, there's no need for hyperbole. The girl is flat-out awesome. As such, the Vanity was another walk in the park. This time, the margin was three lengths, but at this point, no one seems to be counting. Affluent--for the third straight race--could only muster second. Forgive her if she's having doubts about the game. Azeri, on the other hand, appears invulnerable."Don't ask me how she keeps getting better, but she does, man," said Smith. "Laura's done a tremendous job with her. She's got this filly so happy. That's the key. When you get a horse with that kind of ability, if you can keep 'em happy." Which, of course, is the basic conviction of trainer Laura de Seroux, who lets Azeri take life at a leisurely pace. So far, no one can keep up with her. Despite a 125-pound impost--the heaviest assignment of her young career--Azeri became just the third horse in history to win the grade I Santa Margarita, Apple Blossom, Milady, and Vanity Handicaps in the same year. "But she's the only one to do it at four," de Seroux quickly pointed out, knowing full well that both Bayakoa and Paseana racked 'em up as 5-year-olds. She also noted that Azeri doesn't seem to want to slow down. "Believe me, we'd give her a little rest if there was any sign that she wanted or needed it. There hasn't been. I think it has a lot to do with just what a great mind she has. She's amazing. Where did she come from?" Credit the late Allen Paulson, the filly's breeder, for giving wings to the dream. She is now owned by his living trust. And every move Azeri makes, according to his son, Michael, simply broadens the Paulson legacy. "She's a superstar," Michael Paulson said. "A gift from our father, that's for sure." (Chart, Equibase)



Copyright © 2015 The Blood-Horse, Inc. All Rights Reserved.