Queen Bee
by Steve Haskin
Date Posted: 6/22/2002 6:29:16 PM
Last Updated: 6/29/2002 2:13:15 PM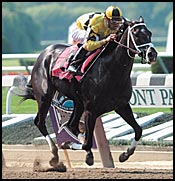 John Velasquez aboard Queen Bee winner Raging Fever.
Photo: Adam Coglianese

This article appeared in the June 29 issue of The Blood-Horse
Things were back to normal for the Edward P. "Ned" Evans stable on June 22. After pulling off the rare feat (for him) of winning two consecutive stakes with colts, Evans and trainer Mark Hennig returned to their filly factory and sent out the queen bee, Raging Fever, for another victory in a filly and mare stakes. By winning the $300,000 Ogden Phipps Handicap (gr. I), formerly the Hempstead Handicap, Raging Fever has now captured three grade I stakes, all at Belmont Park. She is now five-for-six at Belmont and nine-for-10 in New York. In 15 career starts, she has 10 victories, and her Ogden Phipps score put her career earnings over the $1-million mark ($1,176,365). This year started out pretty much as last year had ended for the Evans/Hennig team, with fillies accounting for just about every one of their stakes scores. In the first five months of 2002, the pair had teamed up for 10 stakes victories, nine of them won by fillies, headed by Raging Fever, Summer Colony, With Ability, and Gold Mover. Then came the back-to-back stakes wins by Gygistar in the Riva Ridge Breeders' Cup Stakes (gr. II) on June 8 and Seeking Daylight in the Brooklyn Handicap (gr. II) on June 15. That's when Raging Fever went about setting things straight by capturing the Ogden Phipps, giving Evans and Hennig graded stakes victories in New York on three consecutive Saturdays. Although the filly still reigns supreme in the Evans/Hennig stable, it is becoming obvious the gals are going to have to start sharing the spotlight with the boys. But it's going to take some serious running to topple Raging Fever as the star of the stable. Before the running of the Ogden Phipps, named after the late owner, breeder, and sportsman who died on April 22, jockey John Velazquez told Hennig he was going to try to rate Raging Fever if she would let him. That was a big "if," as the 4-year-old homebred daughter of Storm Cat had been on the lead or fighting head-and-head for the lead in 11 of her 14 career starts, and hadn't shown an inclination to take back off the pace since March of 2001. Despite her carrying top weight of 120 pounds and conceding three to eight pounds to her opponents over a distance beyond her best, she was sent off as the solid 2-1 favorite. When Shiny Band, who had knocked off Raging Fever in the Shuvee Handicap (gr. II) last month at 17-1, and Happily Unbridled went at each other's throats right from the start of the Phipps, Raging Fever was content to sit right off them in third. "It worked out perfect," Velazquez said. "We were outside and there was no one breathing down her neck. She relaxed great." Happily Unbridled, on the outside, and Shiny Band, on the rail, dueled through an opening quarter in a modest :23.70, with Raging Fever about three-quarters of a length behind. Raging Fever had never run that slowly for an opening quarter over a fast track. When the leaders began to pick it up with a second quarter in :22.50, Velazquez eased back a bit, letting them open a length advantage. Around the far turn, Velazquez asked her to pick it up and she quickly charged up on the outside, sticking her head in front passing the five-sixteenths pole. "She has great acceleration off the turn," Velazquez said. As they turned for home, Raging Fever was gone. All Velazquez did was shake the reins at her, and she hit the eighth pole with a 3-1/2-length lead. Although she had won the Frizette Stakes (gr. I) last year at the Phipps distance of 1-1/16 miles, she has shortened stride in the final furlong in all her attempts at a mile or more, and the Phipps was no exception. She passed the sixteenth pole in a quick 1:35.18 for the mile, but the Jim Bond-trained Transcendental, in receipt of seven pounds from Raging Fever, began chopping into the lead, and Velazquez went to three right-handed whips. Although Transcendental was gaining with every stride, Raging Fever still was coming home her final sixteenth in a respectable :06.57. She crossed the wire three-quarters of a length in front, covering the distance in a solid 1:41.75. Transcendental finished 1-3/4 lengths ahead of the fast-closing Two Item Limit in the nine-horse field. "I couldn't stay with Raging Fever off the turn and that may have cost me the race," said Edgar Prado, rider of Transcendental. "A couple of more jumps and we probably get up. She tried real hard."
Hennig said he'll likely drop Raging Fever back into a sprint, pointing her for the seven-furlong $250,000 Ballerina Handicap (gr. I) at Saratoga on Aug. 25. "I think she can sprint with the best of them," he said. "She definitely has an affinity for this course. She made her middle move today and that move wins a lot of races. She's been very special for us. She's been more settled and you don't have to worry about her not kicking in. She sat third and John had a lot of horse left. She's a quality filly who's been underrated most of her life. It's good to see her go over the $1-million mark in earnings and win another grade I."(Chart, Equibase)



Copyright © 2015 The Blood-Horse, Inc. All Rights Reserved.