Keeneland Sale Soars; Fillies Bring Record Prices
by Blood-Horse Staff
Date Posted: 9/11/2000 2:19:38 PM
Last Updated: 9/13/2000 10:49:22 AM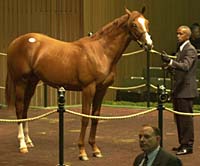 Agent Demi O'Byrne paid a September sale record of $6.8 million for a Storm Cat colt, a half-brother to champion Storm Song.
Photo: Anne M. Eberhardt

Boosted by competitive bidding between Sheikh Mohammed, Coolmore Stud interests, and clients of trainer D. Wayne Lukas, the second session of Keeneland's fall yearling sale soared to record levels Tuesday, primarily on the strength of horses consigned by William S. Farish's Lane's End Farm.Among the highlights were the sale of a Storm Cat colt for $6.8 million--the highest price paid for a yearling sold at auction in North America since 1985--and two apparent world record prices for yearling fillies.Keeneland reported 225 horses were sold Tuesday for gross receipts of $94,590,000, a record for a single September sale session. The session average of $420,000, which represented a 53.1% gain over the 1999 second session average of $274,516 when 254 horses grossed $69,727,000, was also a record. The session median price of $180,000, up 22% from the corresponding session median in 1999, was just short of the fall yearling sale record median of $200,000 that was set during Monday's first session. The 78 horses that did not meet their reserve prices Tuesday represented 25.7% of the total through the ring. The second session buyback rate in 1999 was 20.8%.Cumulative figures for the first two days of the marathon 13-day sale show 443 horses have grossed $162,142,000 for an average price of $366,009 and a median of $195,000. Through two sessions in 1999, Keeneland had sold 471 horses for a total $120,889,000, an average of $256,665 and a $150,000 median.Lane's End was the leading consignor Tuesday, with total receipts of $45,697,000."Consignors have brought us a lot of great horses the last two days and the buyers have responded," said Keeneland sales director Rogers Beasley. "People with the top dollars want the very best and they are willing to pay for them."Coolmore interests outbid Sheikh Mohammed to purchase the top-priced colt, a half-brother to champion Storm Song. Demi O'Byrne, who signed the ticket on behalf of Michael Tabor and Mrs. John Magnier, said the Coolmore interests went higher than they anticipated to obtain the June 2, 1999 foal consigned as Hip No. 356. O'Byrne said his pre-sale evaluation of the colt was that it would exceed last year's top September sale price of $3.9 million. The Tabor-Magnier partnership currently races Giant's Causeway, a son of Storm Cat who is one of the top horses in Europe. On Saturday, Giant's Causeway won the Esat Digifone Irish Champion Stakes (Ire-I) for his fifth consecutive group I win since June 20.Agent John Ferguson, representing Sheikh Mohammed in the bidding war, said of the $6.8-million yearling, "Obviously he's a very nice horse and they rated him more highly than we did."Not only is the price a record for the September sale, it is the sixth-highest price paid for a yearling sold at Keeneland.While Ferguson and company were outbid for the session topper, they were successful with a $5.3 million bid for a colt described as "the very best horse in the sale" and a Theatrical filly purchased for $4 million.The colt, consigned as Hip No. 560, is a son of Kingmambo produced from the prolific broodmare Battle Creek Girl (by His Majesty). Also consigned by Lane's End, the colt is a full brother to grade II winner Parade Ground and a half-brother to four stakes winners, including champion Wavering Girl."He is a very quality individual, an outstanding colt," Ferguson said. "He was Sheikh Mohammed's pick of the sale. He is a special colt, a great athlete." Noting that Kingmambo has top progeny in Europe and the U.S., Ferguson said Sheikh Mohammed's Godolphin Racing will have the flexibility to race the colt on either continent.The $4 million filly was consigned by Lane's End on behalf of Brookside Farms. Ferguson said one reason for Godolphin's interest in the filly was her pedigree. At the time she went through the ring, the price was a record for a yearling filly sold at Keeneland and believed to be a world record. As a daughter of the stakes winning Seattle Slew mare Claxton's Slew, the filly is a half-sister to champion mare Escena and to Irish group II winner Humbel.Ferguson said Sheikh Mohammed buys top fillies when he "comes across one that is special." Ferguson said a decision will be made later on whether the filly races in the U.S. or Europe.The $4 million figure was later eclipsed by the successful $4.4 million bid of Shadwell Estate Company for Moon's Whisper, a daughter of Storm Cat produced from the French group I-winning mare East of the Moon (by Private Account). She was also consigned by Lane's End.Coolmore also won a bidding war with trainer D. Wayne Lukas to obtain a Mr. Prospector colt from the Lane's End consignment for $4.4 million. The colt was produced from the grade III-winning Baldski mare Voodoo Lily and to graded-placed Lily O'Gold. O'Byrne labeled the colt the "best-looking horse in the sale" and is "one of the best" he's ever seen.Boosted by the high-powered consignment from Lane's End, which did not sell during the Keeneland summer yearling sale in favor of the September auction, the Tuesday session saw a continuation of the bullish market for young horses that began during Monday's first session of the marathon sale. The session's fourth-highest price of $3.6 million was paid by a new partnership consisting of Padua Stables, Olin Gentry, and John Gaines for a Storm Cat colt produced from grade III winner Lily Capote. The colt was consigned by Hartwell Farm.Gentry said the colt will be trained by Lukas, who also trained Lily Capote. Gentry, who had purchased Lily Capote for Jim Spence, in whose colors the filly raced, said he was not surprised with the final price paid for the Storm Cat colt. Gentry said the Padua-Gaines-Gentry partnership would be attempting to purchase other horses for the stable.Hip-by-hip results, live coverage.



Copyright © 2015 The Blood-Horse, Inc. All Rights Reserved.