Papiano: Flying Dash Positive Is Mistaken Identity
by Ray Paulick
Date Posted: 6/17/2002 6:21:58 PM
Last Updated: 6/20/2002 4:31:35 PM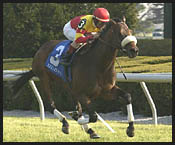 Flying Dash, shown winning the Transylvania Stakes at Keeneland, has been disqualified from his victory in the Hawthorne Derby.


Attorney Neil Papiano said he is convinced the positive drug test attributed to disqualified Hawthorne Derby (gr. IIT) winner Flying Dash was a case of mistaken identity. "It's either the wrong horse or the wrong test," Papiano said. "If he had the amount in him that they found in the test, the horse could barely walk, much less win a stakes race."Papiano said 10 micrograms of promazine sulfoxide, a metabolite of the tranquilizer acepromazine, were detected by the Illinois Racing Board laboratory, an amount equal to 10,000 nanograms. The bronchodilator clenbuterol also was found in the urine sample attributed to Flying Dash, apparently in an amount well above screening levels set by the IRB.Hall of Fame trainer Neil Drysdale received a 45-day suspension for the dual positives and was fined $2,500 by Illinois stewards. Flying Dash was disqualified from the victory and placed last in the race. The purse has been ordered redistributed.A 30-day stay was issued by stewards and Papiano said he is appealing the ruling. "They were very gracious about issuing a stay so we can find out the facts," Papiano said. "We think the tests may have been labeled incorrectly." The Los Angeles-based attorney is having split samples of Flying Dash's blood and urine tested independently. "If we have to we can check the DNA," Papiano said. "I think it's just an honest error."Papiano, who also is representing trainers Bob Baffert and Robert Frankel against the California Horse Racing Board in cases involving trace levels of morphine, said Drysdale has never had a positive test in the 27 years he has trained. "If you want to look at meticulous records, you should see his," Papiano said of Drysdale. "He could tell you if one of his horses had a pimple three months ago."Drysdale would not comment on the case other than to say, "We are confident a mistake has been made."Shelley Kalita, director of the IRB lab and council to the board, also would not comment on the specifics of the Flying Dash case. She called acepromazine a "zero-tolerance" drug in Ilinois and said ELIZA-test screening levels for clenbuterol are established to detect its use within one week of a race. The two banned substances were confirmed by the lab using gas chromatography/mass spectrometry tests.



Copyright © 2015 The Blood-Horse, Inc. All Rights Reserved.