Alive and Kicking
by Ray Paulick
Date Posted: 6/11/2002 12:14:31 PM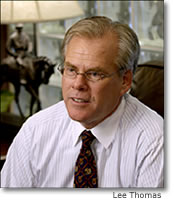 Ray Paulick
Editor-in-Chief


It's surprising, and downright heartwarming, to know that so many of my brethren in the news media care about the health of the Thoroughbred industry. "Can War Emblem save a dying industry?" they wondered in their once-a-year examination of Thoroughbred racing, suggesting that anything short of an emphatic Belmont Stakes (gr. I) win by the colt would be the kiss of death for the sport. Amazingly, though, after the Kentucky Derby (gr. I) and Preakness (gr. I) winner stubbed his toe at the start and lost all chance to sweep the Triple Crown, signs of life within the industry still remained. To be sure, War Emblem's failure and Sarava's shocking 70-1 upset knocked the wind out of most of the 103,222 people who came to Belmont Park hoping to see history made. The decibel level told the story, the noise reaching a crescendo with the colt's move to the lead down the backstretch and plummeting with his fast fade around the final turn. It was like an electrical power surge, quickly followed by a blackout. Many of those disappointed by War Emblem's defeat found immediate consolation from the poetic justice delivered to winning trainer Kenny McPeek. Earlier in the week, McPeek was summarily dismissed as conditioner of beaten Derby favorite Harlan's Holiday by owner Jack Wolf. Another strong Triple Crown contender in McPeek's barn, Louisiana Derby (gr. II) winner Repent, was sidelined one month before the Kentucky Derby after suffering an injury. The Kentucky-based trainer also lost the Kentucky Oaks (gr. I) with favored Take Charge Lady on the eve of the Derby, and she missed subsequent starts because of a virus. Sarava's triumph was a welcome piece of good fortune for McPeek. Conversely, War Emblem's stumble was bad luck for trainer Bob Baffert, bidding for the Triple Crown unsuccessfully for an unprecedented third time, and for the colt's owner, Saudi Prince Ahmed Salman. However, the mere fact War Emblem was in line to be the first Triple Crown winner since Affirmed in 1978 was very good for racing. Live attendance for the three events totaled a record 349,393--an astonishing number considering heightened security resulting from the Sept. 11 terrorist attacks. Attendance and pari-mutuel wagering records for Belmont Day were obliterated, further evidence of the remarkable turnaround made by the management team and staff working under the direction of New York Racing Association chairman Barry Schwartz. Pari-mutuel handle for the Triple Crown raceday programs hit an astronomical $283 million, with all three events registering double-digit percentage increases. Belmont Day's total handle of $95 million spiked 29% higher than the previous mark, $74 million, set in 1999 when Charismatic's bid for the Triple Crown attracted 85,818. That is strong. War Emblem couldn't get the job done, but major league horse racing is far from dead as a result. Let's see how far things have come in just five years, since 1997, when Silver Charm made the first run for the Triple Crown since Sunday Silence in 1989. --Combined attendance of 349,393 for the three days this year was 16% higher than the 301,257 on hand in 1997. --Combined handle of $283 million was 67% higher than the $169 million bet in 1997. --Television Nielsen ratings points totaled 22 in 2002 (final rating of 7.1 for the Derby, 5.7 for the Preakness, and an overnight rating of 9.2 for the Belmont), up 28% from the 17.2 points in 1997 (Derby, 7.1; Preakness, 4.8; Belmont, 5.3). So, in an apples to apples comparison of Triple Crown seasons over a five-year period, attendance increased 16%, handle by 67%, and television ratings by 28%. Not bad for a dying industry.



Copyright © 2015 The Blood-Horse, Inc. All Rights Reserved.