Belmont Blows Away Handle, Attendance Records
by Eric Mitchell
Date Posted: 6/10/2002 2:48:18 PM
Last Updated: 6/11/2002 2:59:59 PM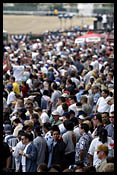 Part of the record Belmont Park crowd that witnessed Sarava's upset victory.
Photo: Mike Corrado

Facing its fourth Triple Crown bid in six years, the New York Racing Association was prepared for June 8 to be a big day. By 10 a.m. on Belmont Stakes Day, however, NYRA officials knew the day would be extraordinary even by Triple Crown standards.Racing fans had camped out all night at Belmont Park's gates and the Long Island Railroad carried twice as many fans out to the track than it had last year. Eighteeen trains took about 22,000 fans to Belmont Park before the races compared to11,000 who rode one of 13 trains a year ago. By post time for the first race, the park-like "backyard" behind Belmont's grandstand looked like Churchill Downs' infield on Kentucky Derby Day."The crowd was so electric," said Bill Nader, senior vice president for NYRA. "For the first race, the crowd was so into it, it sounded like they were starting the Derby. We knew after the Preakness by the phone calls it would be bigger than any other Belmont, but by 10 a.m. we knew it would be a blockbuster day."A phenomenal crowd of 103,222 packed into Belmont Park and shattered by 20.3% the track's previous record of 85,818, set in 1999. The attendance was larger than the combined crowds for Game 3 of the NBA Finals between the Los Angeles Lakers and the New Jersey Nets at Continental Airlines Arena (19,215), the New York Yankees and San Francisco Giants game that afternoon at Yankee Stadium (55,194), and Game 3 of the Stanley Cup between the Detroit Red Wings and Carolina Hurricanes at Raleigh, N.C. (18,982).NYRA officials couldn't agree how close to capacity Belmont Park had been stretched, but they did agree the event still had room to grow. Terry Meyocks, NYRA president, and Jim Gallagher, the new vice president of pari-mutuel operations, estimated the track could hold another 10,000 people. Nader said he thought the grandstand was closer to capacity and that significantly more people couldn't be accommodated without opening the track infield."Maybe we haven't seen the top of the mountain for the Belmont," Nader said. "Maybe there is room to grow. I think there is."Interest in the Belmont Stakes wasn't limited to the New York City area.The overnight television rating for NBC Sports' one hour and 45 minute telecast was 9.2 with a 21% market share, according to Nielsen Media Research. With each rating point equal to 1,055,000 viewers, an estimated 9.7 million households tuned in to watch Sarava upset War Emblem's attempt at a Triple Crown title. The number of viewing households was 94% higher than last year when nearly 5 million watched.A Triple Crown race had not had an overnight rating that high since the 1992 Kentucky Derby (gr. I), which earned a 9.2 and 26% market share. For the Belmont Stakes (gr. I), the overnight has not been so high since 1987 when Bet Twice was the spoiler for Alysheba's try for a Triple Crown title. In 1987, ABC Sports aired a one and half hour program that earned a 9.2 overnight rating and 25% market share.This year's coverage peaked between 6-6:30 p.m. with a 12.5 rating and a 28% market share. Last year, with no Triple Crown title at stake, the Belmont earned an overnight of 4.9 and coverage peaked at 5.8.Fans also tracked the Belmont Stakes through the Internet. NYRA.com logged just more than 8 million hits and more than 117,206 unique visitors on Belmont Day. People were not only watching, either. They were betting in a big way.Total handle from all sources (including separate pool wagering) roared past the previous record for Belmont Stakes Day by 28.7% to $95,443,037. The previous record of $74,133,188 was set in 1999. Total handle was 8.2% shy of the single-day Belmont Park record set during last year's Breeders' Cup World Thoroughbred Championships, which generated an all-sources handle of $103,257,457.Other records to fall were:* On-track wagering for Belmont Stakes Day reached $12,045,114 and broke the previous record of $10,581,093 set last year by 13.8%.* A new Belmont Stakes Day commingled handle record of $90,703,830 smashed the previous record $68,323,600 set last year by 32.8%.* The Belmont Stakes set a single-race record for on-track handle and total handle. Patrons on-site wagered $3,753,983, or 19.4% more than the previous on-track record of $3,143,508 set in 1999. The total handle (including separate pools) of $54,503,406 exceeded the 1999 record of $40,839,558 by 33.5%.

Racetracks around the country were also able to capitalize on the extraordinary interest in the Belmont Stakes.Total handle on Arlington Park's 10-race live card was the highest in Illinois since 1996, the last year that records are available. The total commingled handle on the Chicago track's races was $4,291,120 compared to the previous high of $4,127,785 in 1996. On the 12 Belmont Park races, fans on track wagered $714,150, nearly double the $375,248 bet in 1997 when Silver Charm fell short of a Triple Crown sweep. The total handle in Illinois of $3,788,085 on the Belmont card was more than $1.4 million higher than the $2,359,158 wagered statewide in 1999.At Lone Star Park near Dallas, 16,338 fans wagered a track record $824,888 on the Belmont Stakes. The previous record of $621,974 was set in 1999.



Copyright © 2015 The Blood-Horse, Inc. All Rights Reserved.