War Emblem Heading to California Sunday
by Ray Paulick
Date Posted: 6/10/2002 12:02:42 PM
Last Updated: 6/11/2002 1:03:02 PM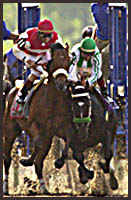 War Emblem, in green shadow roll, stumbles at the start of the Belmont Stakes.
Photo: Associated Press

Kentucky Derby and Preakness winner War Emblem, who stumbled badly at the start of the Belmont Stakes and finished a distant eighth to longshot Sarava in his bid to become racing's 12th Triple Crown winner, will be shipped on Sunday to trainer Bob Baffert's Santa Anita barn in Southern California."He looks good," Baffert said from Churchill Downs on Monday. "He seemed a little tired when we got here yesterday with all the heat and humidity, but he was happy today, which is very encouraging. He looks like his old self."War Emblem escaped injury in the Belmont when he went to his knees at the start, nearly unseating jockey Victor Espinoza. "Richard (Mulhall, manager of Prince Ahmed Salman's The Thoroughbred Corp. that owns the colt) said he watched the head-ons in slow motion and thought he had one foot up in the air when the gates opened. We're just lucky he didn't hurt himself."Baffert said he doesn't anticipate sending the son of Our Emblem back to the racetrack until he arrives in California. "We'll probably give him at least a week off, but I may have to buy him a mannequin so he can have something to chew on." War Emblem is a notorious biter.The trainer gave no indication when or where War Emblem would make his next start.



Copyright © 2015 The Blood-Horse, Inc. All Rights Reserved.