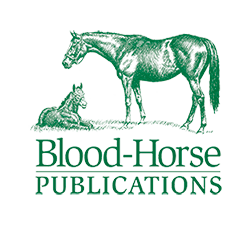 Our mission is to serve the equine owner and breeder with integrity by creating an array of publications dedicated to the promotion and welfare of the horse. We serve our readers by publishing top Thoroughbred and general equine magazines, websites, fine books, and educational DVDs.
Blood-Horse Publications is a unique company that is, in essence, owned by the industry it serves. The Blood-Horse magazine is published by an independent "non-stock, not-for-profit" subsidiary of the Thoroughbred Owners and Breeders' Association (TOBA). The company pays no profits or dividends. It exists for the good of the Thoroughbred industry. Earnings are invested in product development, and to advance key industry programs such as new owner recruitment, equine health care, and charitable endeavors.
The Blood-Horse is our flagship publication. Since its founding in 1916, the publication has blossomed into the Thoroughbred industry's premier international weekly news and information magazine and web site for racing and breeding. Coverage includes race reporting, comprehensive analysis, events, trends, debate, farm management, pedigrees, people, profiles, medication issues, investigative reports, breeding news and information, and anything newsworthy and important to the racing and breeding industry.
In addition, Blood-Horse Publications publishes The Horse: Your Guide to Equine Health Care, a monthly equine health care magazine; Auction Edge, the industry's leading Thoroughbred auction sales supplement; numerous annual professional products, and Keeneland magazine. Blood-Horse Publications provides custom publishing services under the Eclipse Press banner. In addition, Blood-Horse Publications also operates Shop.BloodHorse.com and Shop.TheHorse.com, e-commerce divisions of its magazines.