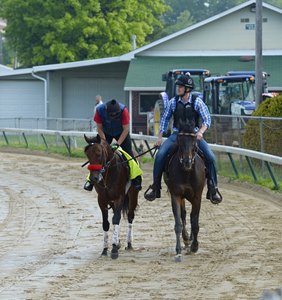 Unbeaten champion jogs on muddy main track May 1 under the Twin Spires. More
Trainer Keith Desormeaux will saddle Exaggerator in the Run for the Roses. More

American Cleopatra is currently training at McKathan Brothers Training Center. More
Recent Stakes Results & Videos
Click on a race name to see complete results with video or click on Video to just watch the video.
More Race Results & Videos
The Current Issue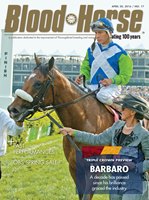 April 30, 2016
Triple Crown Preview
Special section includes past performances, sale prices of Derby winners & hopefuls
The Tablet Edition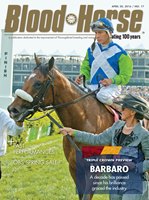 Read the leading Thoroughbred magazine on your tablet.
It's free if you are a print subscriber!
Learn More

Or subscribe now for print + tablet access
Blood-Horse Daily

Get the latest insider news, analysis, entries and results on your phone or sent to your email! Learn More

Daily PDF

Stallions expected to have three starters each in Kentucky Derby (gr. I). More

Warrendale Sales consigned three Derby hopefuls at 2014 Keeneland September. More

The winners of two group I events came from Japan and Australia, respectively. More
J. Keeler Johnson analyzes three Kentucky Derby longshots. More

A wrap-up of the 2015 American Association of Equine Practitioners convention More
This is the third conference hosted by OwnerView, and will be held at Santa Anita. More
Farm Directory
Account Wagering
Appraisals
Associations
Barn Furnishings
Bloodstock Agents
Consignors/Sales Prep
Farm & Horse Supplies
Horse Farms For Sale
Keeneland Rental
Pedigrees
Racing Partnerships
Sales Companies
Training Centers
Training Centers For Sale