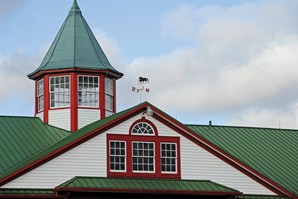 A historic racing operation enters a new era led by billionaire owner Brad Kelley. More

Tom LaMarra and Claire Novak take an early look at the potential Kentucky Derby field More

Has two fillies that will try to join Proud Spell, Believe You Can on win roster. More

Charles Town, Hawthorne, Keeneland, Japan, Santa Anita, Woodbine and More. More
Recent Stakes Results & Videos
Click on a race name to see complete results with video or click on Video to just watch the video.
More Race Results & Videos

Firing Line has been the real standout for his sire, Line of David. More

Ron Winchell of Winchell Thoroughbreds talks about buying Tapit as a yearling. More

Mubtaahij, runaway winner of the UAE Derby, was scheduled to fly to the U.S. April 15 More

Four late-running longshots that could have an impact on the Kentucky Derby. More

Top Equine Studies of 2014 More
In This Week's Magazine

It's been 25 years since trainer Carl Nafzger 'called' Unbridled's Derby.
Also in this issue:

Eh Cumpari, bred by Thomas Turner, proved the best in the Palm Beach Stakes. More
Deal of the Week
Choose from prints, canvas, mouse pads, totes, note cards and much more! Use promo code BHPHOTO15 to SAVE 15% today!
Farm Directory
Account Wagering
Apparel & Merchandise
Appraisals
Associations
Barn Furnishings
Bloodstock Agents
Consignors/Sales Prep
Events/Tickets
Farm & Horse Supplies
Handicapping
Horse Farms For Sale
Past Performances
Pedigrees
Photography
Racing Partnerships
Sales Companies
Training Centers