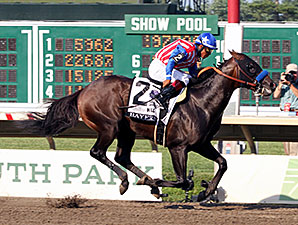 Bayern, Tonalist, and Wicked Strong are the horses to beat in Spa's 'Midsummer Derby' More

Keeneland hopes to hear from more horsemen interested in prepping their top starters. More

California Chrome on track at Los Alamitos on August 15, 2014. More
Recent Stakes Results & Videos
Click on a race name to see complete results with video or click on Video to just watch the video.
More Race Results & Videos

Another top racehorse with an offbeat pedigree joins Adena Springs. More

This segment examines the importance of monitoring and trimming young horses' hooves. More
Arrowfield Stud bought majority interest in horse's breeding rights in 2012. More

J. Keeler Johnson takes an early look at some of the key contenders in the Travers S. More

Sesamoid injuries can be difficult to repair and even catastrophic. More
In This Week's Magazine

Improbable Hardest Core outkicks Magician in the Arlington Million
Also in this issue:

Organization issues statement supporting Racing Medication and Testing Consortium. More
Deal of the Week
Choose from prints, canvas, mouse pads, totes, note cards and much more! Use promo code BHPHOTO15 to SAVE 15% today!
Farm Directory
Account Wagering
Apparel & Merchandise
Associations
Bloodstock Agents
Consignors/Sales Prep
Events/Tickets
Farm & Horse Supplies
Handicapping
Horse Farms For Sale
Past Performances
Pedigrees
Photography
Racing Partnerships
Sales Companies
Training Centers