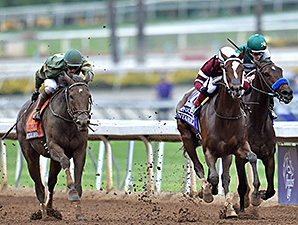 Driving finish by Winchell homebred wraps up championship honors for fabulous filly. More

Steve Haskin shares his picks for the Breeders' Cup Saturday races. More

J. Keeler Johnson handicaps the Breeders' Cup Saturday races. More
Recent Stakes Results & Videos
Click on a race name to see complete results with video or click on Video to just watch the video.
More Race Results & Videos

What stallions 34,540 N. A. mares were bred to in 2014 as reported to The Jockey Club More

More than 1,900 broodmares will be offered in-foal at the 2014 Keeneland Nov. sale. More

Keeneland, Europe, Japan, Zia Park, Santa Anita, Breeders' Cup works and more! More

Timeform US Breeders' Cup Preview: Will Shared Belief Remain Undefeated? More

The hoof's external health affects the bones and soft tissues within, and vice versa. More
In This Week's Magazine

California Chrome and other 3yos take aim at Breeders' Cup Classic
Also in this issue:

Samantha Siegel is TOBA's October Member of the Month More
Deal of the Week
Choose from prints, canvas, mouse pads, totes, note cards and much more! Use promo code BHPHOTO15 to SAVE 15% today!
Farm Directory
Account Wagering
Apparel & Merchandise
Appraisals
Associations
Bloodstock Agents
Consignors/Sales Prep
Events/Tickets
Farm & Horse Supplies
Handicapping
Horse Farms For Sale
Past Performances
Pedigrees
Photography
Racing Partnerships
Sales Companies
Training Centers