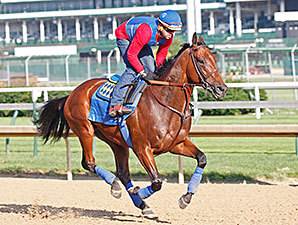 Trainer Bob Baffert said Triple Crown hopeful is to have final drill Monday. More

Connections of Secretariat, Seattle Slew, and Affirmed discuss Crown and Pharoah More

Pimlico, Japan, Belterra, Santa Anita, Canterbury, Monmouth, Charles Town and More. More
Recent Stakes Results & Videos
Click on a race name to see complete results with video or click on Video to just watch the video.
More Race Results & Videos
The Current Issue
The Tablet Edition

Read the leading Thoroughbred magazine on your tablet.
It's free if you are a print subscriber!
Learn More

Or subscribe now for print + tablet access

The modern classic horse is most often one that flashes considerable early speed. More

Gross rose 38.5% and average went up 5.4% over last year's edition in Pomona, Calif. More

Racemare takes first step toward planned attempt at unprecedented third Arc win. More

J. Keeler Johnson handicaps four stakes races across the country. More
Deal of the Week
Choose from prints, canvas, mouse pads, totes, note cards and much more! Use promo code BHPHOTO15 to SAVE 15% today!
Farm Directory
Account Wagering
Appraisals
Associations
Barn Furnishings
Bloodstock Agents
Consignors/Sales Prep
Farm & Horse Supplies
Horse Farms For Sale
Pedigrees
Racing Partnerships
Sales Companies
Training Centers