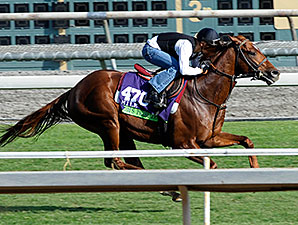 Breeders' Cup Mile contender has become more settled under veteran rider. More

Join us on Thursday, October 30 to talk all about the Breeders' Cup! More

Participants in the 2004 Breeders' Cup at Lone Star Park have made quite an impact. More
Recent Stakes Results & Videos
Click on a race name to see complete results with video or click on Video to just watch the video.
More Race Results & Videos

What stallions 34,540 N. A. mares were bred to in 2014 as reported to The Jockey Club More

Thirty-two horses in the Breeders' Cup cost $50,000 or less as yearlings. More

Keeneland, Europe, Japan, Zia Park, Santa Anita, Breeders' Cup works and more! More

The Top 3 Projected Fastest Paces in the 2014 Breeders' Cup. More

The hoof's external health affects the bones and soft tissues within, and vice versa. More
In This Week's Magazine

California Chrome and other 3yos take aim at Breeders' Cup Classic
Also in this issue:

Panel group discusses equine welfare and what some organizations are doing to help. More
Deal of the Week
Choose from prints, canvas, mouse pads, totes, note cards and much more! Use promo code BHPHOTO15 to SAVE 15% today!
Farm Directory
Account Wagering
Apparel & Merchandise
Appraisals
Associations
Bloodstock Agents
Consignors/Sales Prep
Events/Tickets
Farm & Horse Supplies
Handicapping
Horse Farms For Sale
Past Performances
Pedigrees
Photography
Racing Partnerships
Sales Companies
Training Centers