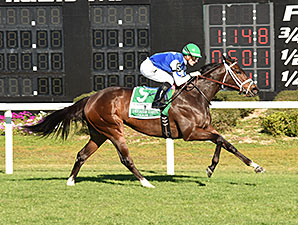 The champion mare made her season debut with impressive style Feb. 13 at Tampa. More

Steve Haskin adjusts the Kentucky Derby Dozen this week. Who has moved up? More

The second son of Zenyatta is approaching his long-awaited first start. More
Recent Stakes Results & Videos
Click on a race name to see complete results with video or click on Video to just watch the video.
More Race Results & Videos
The Current Issue
The Tablet Edition

Read the leading Thoroughbred magazine on your tablet.
It's free if you are a print subscriber!
Learn More

Or subscribe now for print + tablet access
NEW!
Blood-Horse Daily

Get the latest insider news, analysis, entries and results on your phone or sent to your email! Learn More

Daily PDF

Despite small numbers and circumstances, Rock Sand made lasting contributions. More

Tom LaMarra recaps Day 2 of the 2016 Fasig-Tipton Kentucky winter mixed Sale. More

The Dubai Racing Club talks with Alan Sherman about California Chrome. More

Mohaymen, Nyquest top individual choices in second 2016 Kentucky Derby Future Wager. More
Track plans to get non-impacted runners back in action despite virus. More

Clinic at Gulfstream Park is coordinated with Fasig-Tipton Florida sale. More
Farm Directory
Account Wagering
Appraisals
Associations
Barn Furnishings
Bloodstock Agents
Consignors/Sales Prep
Farm & Horse Supplies
Horse Farms For Sale
Pedigrees
Racing Partnerships
Sales Companies
Training Centers